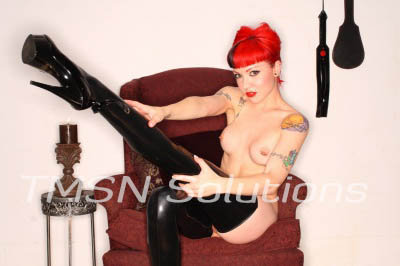 844-332-2639 ext. 205
Interrupting my schedule for a few moments, I thought for a brief instance I'd pause to answer a question I get posed nearly every time I go off to have fun with some slut or pervert before the games begin. You have to understand, even if it may be hard, that I am a wicked creature and filled with all kinds of dark, sultry needs.
I like to bathe in hedonistic pursuits. Intelligence is a must but I'm more then aware most entities out there aren't as smart as me, and certainly none as beautiful.
You can't possibly like anything I wouldn't find some way to enjoy, even if you have to realize its about me. Not you. It's never about you, slut.
I want to be able to follow my dark desires no matter what they happen to be and I do, no matter what you want I'm going to find things that please me. Your sickest desires are games for me. I want to wallow in deceit and fear, I want to suckle at the teat of depravity. I can be a perfect innocent little creature, but deep down?
People remember monsters.
And I love to be remembered.
Give me your fear, pet. Your most fearful desires. Then we'll find something I can truly enjoy.
Austra
844-332-2639 ext. 205